The Phase 5™ Carbine Mini Stock Assembly (CMSA) is a combo kit featuring our Universal Mini Stock (UMS) mounted on our HexOne buffer tube (HexOne).
This pair is an excellent compact fixed stock solution. The UMS and HexOne are precision machined in house from USA sourced raw billet aluminum. The HexOne buffer tube is cut from 7075-T7 and the UMS is 6061-T6. The HexOne buffer tube features a hexagonal design that is much thicker and rugged than a mil-spec receiver extension tube making it perfect for 5.56 NATO, 300 BLK, or even calibers like 7.62×39 and .308 (note: if you use this on a .308 weapon, you will need a .308 carbine buffer and .308 carbine spring). It will also work great with pistol caliber carbines such as 9mm, 40 S&W, and 45 ACP, but you may need a different buffer and/or spring. The UMS offers a smaller footprint and bottom curve which makes for a far superior anchor of the stock on the chest, and this allows an operator to get in and out of position with greater ease.
The HexOne and UMS undergo a rugged tumbling process that further strengthens the exterior of the parts while leaving the surfaces smooth and snag free.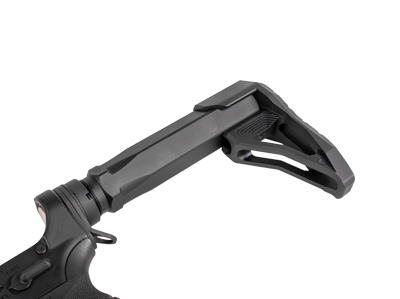 HEAVY DUTY FIXED MINI STOCK ASSEMBLY.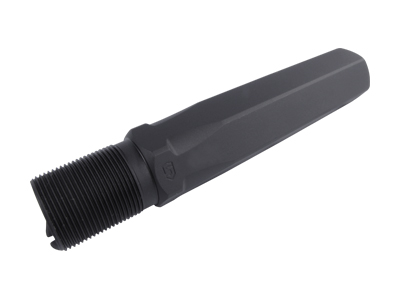 PROUDLY MADE IN THE U.S., FROM U.S. SOURCED RAW BILLET ALUMINUM, ON U.S. MANUFACTURED MACHINES.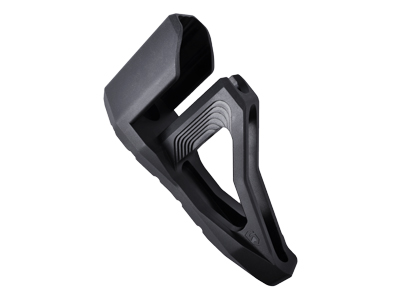 COMPACT DESIGN, GREAT FOR SBR AND ANY OTHER WEAPON YOU WISH TO TUCK CLOSE TO YOUR BODY.